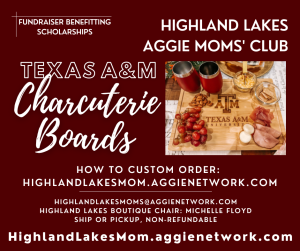 Check out our new custom charcuterie boards at our online store. These boards come in three different sizes with your choice of Acacia or Bamboo wood, and five different A&M designs! Sales are open from November 7th thru November 20th – don't miss out on these gorgeous boards, order yours here!
We will be offering local pick-up in Burnet, Marble Falls, and College Station. Don't want to pick up your order in person? Shipping and handling is only $15.00, no matter how many boards you order!
Help your favorite students BTHO Finals with a Spring Finals Goodie Bag!
Download the Spring 2023 HLAMC Goody Bag Order Form here!